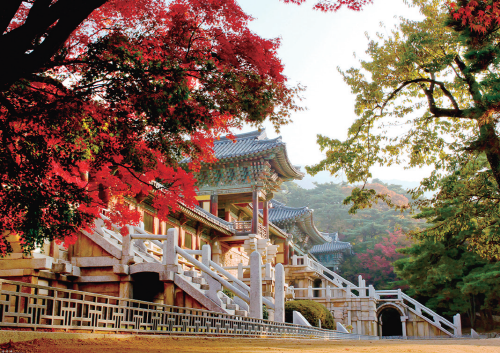 Bulguksa
■ Address
385, Bulguk-ro, Gyeongju-si, Gyeongsangbuk-do
■ Directions
Take a bus to Bulguksa from the Gyeongju train station or bus terminal
■ Operating Hours
07:00-18:00 (the ticket booth closes at 17:30)
■ Admission Fees
Adults (ages over 19): 4,000 won
Youths (ages 13-18): 3,000 won / Group (over 30): 2,500 won
Children (ages 7-12): 2,000 won / Group (over 30): 1,500 won
Children (ages under 7): Free (Individual) / Group (over 10): 1,000 won
■ Introduction
It is a very famous Korean Buddhism temple and possesses seven South Korean national treasures, including the Dabotap and Seokgatap stone pagodas. In 1995, Bulguksa was added to the UNESCO World Heritage. It is popular for the beauty of its temples and landscape especially with the wonderful fall leaves. Also, there are many other fall foliage attractions located in Geongju, if you have a time after midterm exams, it should be a good experience for you.
Daegu Arboretum
■ Address
342, Hwaam-ro, Dalseo-gu, Daegu
■ Directions
Use the Daegu subway system and get off at Daegok station.
■ Operating Hours
※ Closed: Monday January-May/September-December: 09:00-18:00 June-August: 09:00-19:00
■ Admission Fees
Free
■ Introduction
According to the Korea Tourism Website, "The Daegu Arboretum was built on a sanitary landfill. It is home to more than 1,000 species of plants including giant cacti, flowers, medicinal herbs, and trees. In addition, the facility regularly holds ecology experience programs for students and young children. Meanwhile, Daegu Arboretum has been recognized as an excellent model of ecosystem restoration."
저작권자 © 영남대학교 언론출판문화원 무단전재 및 재배포 금지