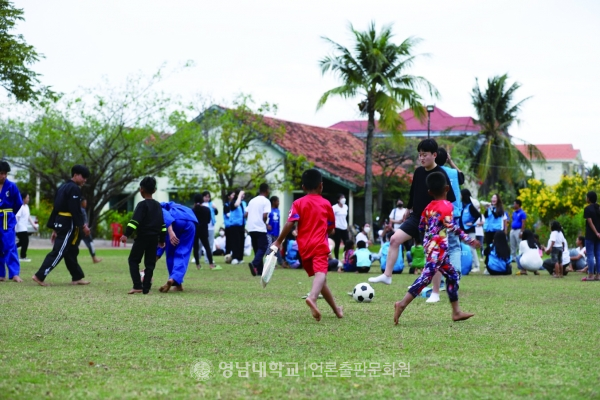 Yeungnam University's overseas volunteer team visited an orphanage in Kampong Cham, Cambodia. The YU volunteer team prepared educational activities for the orphanage children, including soap-making and eco-bag decorating. The Yeungnam Observer interviewed Lee Hyun-ju, a student who led the education team, to share more details.
She said she was interested in overseas activities but could not participate due to COVID-19. She accidentally saw the recruitment announcement of Cambodia's overseas volunteer work group on the school's website and participated in this activity to expand her knowledge and major capabilities.
First, The Observer asked why she planned to make soap and decorate eco bags. Student Lee said there were many activities she wanted to do together. However, she selected two activities in consideration of the weather, time, and the environment of the orphanage. They wanted to approach the children with fun and engaging activities while providing hygiene education through soap making. The eco bag decorating activity was intended to inspire the children to draw their dreams and hopes they come true.
Second, The Observer asked for a memorable anecdote from their time at the orphanage. At the end of her service, she handed out snack packages to the children. So children said "thank you" in Cambodian. She could feel their big hearts in inverse proportion to small hands in the appearance of those who gave thanks without showing greed for the gift.
Lastly, she said that despite the language barrier, YU students and the children sincerely cared for each other. Although it was a short time, she enjoyed spending time with the children and sincerely hopes that they will be happy until the day they meet again.
저작권자 © 영남대학교 언론출판문화원 무단전재 및 재배포 금지